SHARK HOUSE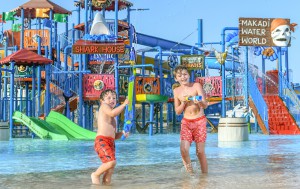 The Shark House has been designed to be an anchor point of attraction within the waterpark.
A pirate-themed aquatic play zone that opens up a world of fun for our kiddos. This has been designed keeping in mind our young guests with an impressively sized activity pool at the center, surrounded by multi-colored unique rides and an array of features that is bound to elevate their water pool experience.
The cherry on top is the enormous tipping-bucket that pours 1000 litres of water taking them by surprise every couple of minutes. As a first of its kind, the pool also brings with it a multi-functional purification process in the Middle East.
Age: minimum 08 years old – with full supervision of the parents
Height: No Height Restriction
Type: drop slide